UEFA vice president 'sorry' after Sky News revealed he voted for ...
The second in command at European football's governing body has apologised after Sky News revealed how he voted to end a blanket ban on Russia's teams competing in continental competitions - contradicting the strong stance of the Swedish sports body he leads.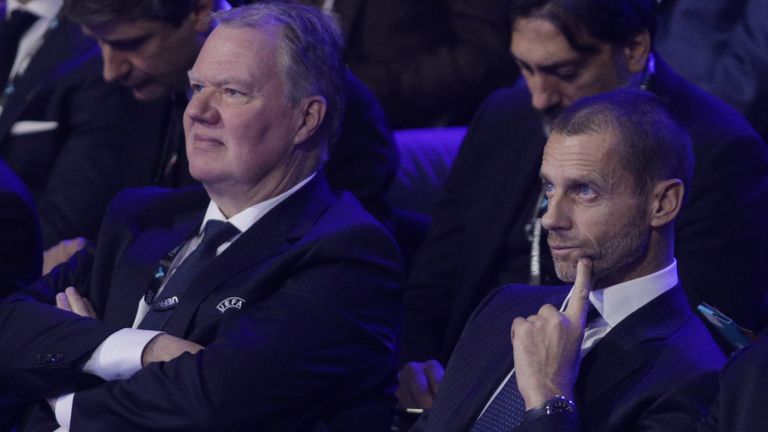 UEFA's first vice president Karl-Erik Nilsson initially sought to dispute our report of the contentious executive committee decision that disclosed he surprisingly backed the readmission of Russia's under-17s teams.
Sky's reporting led to increased scrutiny in Sweden where he led the football federation until earlier this year, when he left to become chair of the Swedish Sports Confederation.
The confederation opposes Russians competing in international sports events while the war on Ukraine continues - as does the Swedish FA.
As hosts of the women's U17s European Championship, Sweden said it would not allow Russia to participate there.
On Friday, Mr Nilsson responded to our report by telling Swedish outlet Fotbollskanalen: "I do not recognise myself at all in the British media description of (UEFA's executive committee's) handling of the issue."
But in a new statement through the Swedish Sports Confederation, Mr Nilsson admits he backed Russia's pathway to playing in Europe again.
He said: "I am sorry that my position in UEFA, and the decision there, have been interpreted as that I do not, as a representative of the Swedish Sports Confederation and the Swedish sports movement, continue to stand for our common stance. I do.
"However, I understand that UEFA wants to review whether we have thought correctly from the children's perspective, so we exclude the risk that we allow children to be punished for, in this case, cruel wars and acts of violence that adults are responsible for."
His statement of regret still gave a different interpretation of the UEFA decision which, Sky News revealed, only two of the governing body's five vice presidents backed.
He implied it wasn't a final decision but UEFA stated it was.
Mr Nilsson said: "In the discussions in UEFA, I chose to approve the decision to start an investigation into the forms to open up for children from Russia to participate in competitions internationally based on the UN Convention on the Rights of the Child.
"Of course, the investigation must take into account both how it affects the possibility of a safe and secure environment for children from Russia and for children from other countries who will face Russian teams."
Image: Karl-Erik Nilsson (L) in 2019 with UEFA president Aleksander Ceferin
Mr Nilsson claimed "UEFA will vote on the issue" once the "investigation" is completed.
He added: "Before that decision, I will of course put forward the position of the Swedish Sports Confederation, the Swedish Football Association and the Swedish sports movement"
But the UEFA statement said the decision was more definitive than that, setting out a next step being more technical around fitting Russia's teams into U17s men's and women's qualifying which begins this month.
Read more from Sky News:Ex-Man City and England striker Francis Lee diesMan pleads guilty after mocking death of Bradley Lowery
UEFA said after Tuesday's meeting in Cyprus: "The UEFA executive committee has decided that Russian teams of minor players will be readmitted to its competitions in the course of this season.
"In this respect, the executive committee has asked the UEFA administration to propose a technical solution that would enable the reinstatement of the Russian U17 teams (both girls and boys) even when draws have already been held.
"All matches of the Russian teams shall be played without the country flag, anthem, national playing kit and not on the Russian territory."
Ukraine's football chiefs wrote to national associations across Europe on Thursday, urging them to boycott all matches against Russians as a nominally neutral side.
But the UEFA leadership is understood to be privately pointing out to football officials' inconsistencies in the opposition to letting Russia back into youth championships.
Please use Chrome browser for a more accessible video player
Wiegman dedicates award to Spanish team
They are highlighting how the Ukrainian sports ministry softened its stance in July - effectively ending the ban on athletes participating at most events where Russians were competing.
Sky News revealed last week that the meeting discussion took some on UEFA's executive committee by surprise.
The leading opposition was understood to have come in the meeting from three UEFA vice presidents - former Manchester United chief executive David Gill, along with former Wales player and Sport Wales chair Laura McAllister, and former Polish federation head Zbigniew Boniek.
UEFA has declined to comment on the voting process.
Read more