'Ireland face biggest test as Springboks showdown finally arrives'
Jamison Gibson-Park (left) is the only change to Ireland's line-up from the Tonga game while fit-again Dan Sheehan (right) is on the bench2023 Rugby World Cup: Pool B - South Africa v IrelandVenue: Stade de France, Paris Date: Saturday, 23 September Kick-off: 20:00 BSTCoverage: Listen on BBC Sounds, BBC Radio 5 Live & BBC Radio Ulster; live text commentary on BBC Sport website & app
Ireland, South Africa and the rugby world have been building up to this one for what seems like a lifetime.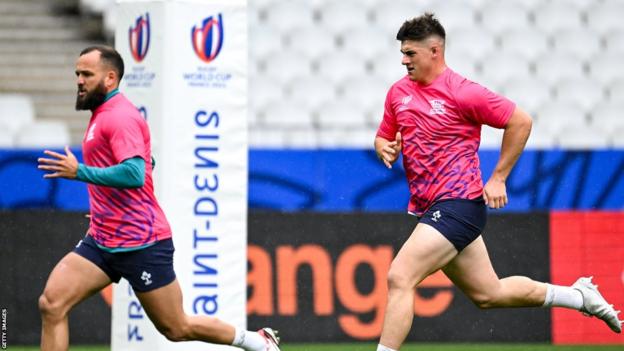 In fact, just 24 hours after discovering they would be facing South Africa in their third outing of the World Cup, Ireland beat Italy inside an empty Stadio Olimpico in the middle of a Covid-impacted 2021 Six Nations.
The fixtures were released 938 days ago. Now that's a build-up.
Ireland have done a fair bit before getting here - conquering the All Blacks, ascending to the top of the world rankings, winning a Grand Slam, you name it - but the Springboks were always, inescapably, on the horizon.
South Africa even came to Dublin last year for a rehearsal 10 months out from the main event. Ireland edged a brutal contest that evening, but it's time for the big show now.
The World Cup. Paris. Under the lights at the Stade de France. The top two teams in the world. Yes, if France putting 96 points on Namibia didn't do it for you, stay with us as this will likely revive your interest. It may be rugby to stir the soul.
Ireland and South Africa have met 27 times in a rivalry spanning over a century, but have never stepped into the World Cup arena together. They may as well give us something worthy of the occasion, then.
The hype surrounding this heavyweight dust-up has led some observers to compare it to a final.
It's not, of course. As Ireland head coach Andy Farrell pointed out during his news conference on Thursday, it's not even "do-or-die" territory for Ireland, who have maximum points from their first two games and still have Scotland to come at this venue in a fortnight's time.
Nor is it for South Africa. The Springboks flexed their muscles early in this title defence, seeing off Scotland 18-3 and followed that up by thumping a poor Romanian side who had barely recovered from a 12-try decimation by the Irish.
But while neither team's World Cup hopes will be ended in front of 80,000 spectators on Saturday, this will undeniably hand a major psychological boost to the victor.
"This is kind of what we've been working for for the last three years I've been here [with the Ireland team]," said wing Mack Hansen, who marked his World Cup debut with a superb try in Ireland's 59-16 win over Tonga in Nantes last week.
"We're super excited for it. It's a big step up from the previous games we've had, but it's everything we've been working for this whole time."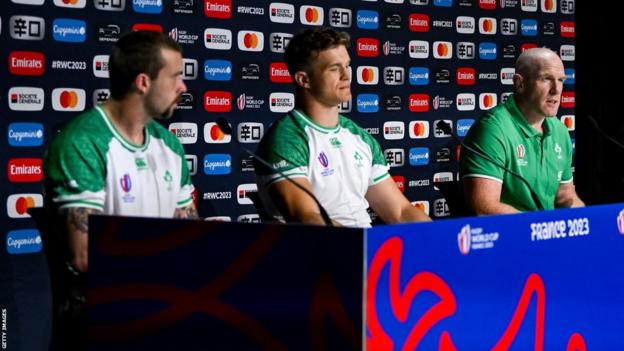 Mack Hansen, Josh van der Flier and Paul O'Connell spoke to the media on the eve of Ireland's much-anticipated Pool B clash with South Africa
Ireland have fronted up to every challenge that's been tossed their way over the last year and change.
Winning a Test series in New Zealand and sealing a Grand Slam against England on Irish soil have been key character-building exercises along the way.
Now, Paul O'Connell, who knows a thing or two about pressure-cooker Tests against the Boks having captained Ireland and the British and Irish Lions during his playing career, wants the world's number one side to draw on those memories when they see the green and gold charging at them on Saturday.
"We speak about this Irish team and what this Irish team stands for and I think they need to bring everything they've brought to the big occasions they've been in over the last few years," said O'Connell, who was part of the Ireland team that crashed out of the pool stages when the World Cup was last hosted by France.
"The boys have always found a way and figured it out. It's a real strength of theirs. They're going to have to play super well tomorrow but they're also going to have to figure things out.
"It's something I really enjoy watching them do, when they have a challenge in front of them. They manage to figure it out as a group and they're going to have to do that this weekend."
'Nothing is ever straightforward'
Uppermost in Irish minds - whether they care to admit it or not - will be South Africa's furiously hyped 'Nuke Squad' or, if you're not up to date with the jargon, the seven forwards who will take their place on the Boks bench alongside a single backline replacement.
Innovative, bold, crazy, dangerous. It's been called just about everything while dominating the pre-match chat. If Jacques Nienaber's masterplan works, he may anoint them 'The Magnificent Seven'.
But Ireland will have enough to worry about with the 15 Boks that start the game. In the last month they have demolished the All Blacks and strangled Scotland. Even without injured hooker Malcolm Marx, they are a hugely intimidating proposition.
"They obviously present a big physical challenge, I think we present a big physical challenge, and they present a real technical challenge as well," said O'Connell.
"They're a very smart side and one of the things you probably admire most about them is the smarts they can bring along with their physicality."
O'Connell was speaking to the media shortly after it was confirmed that France star Antoine Dupont had suffered a fractured cheekbone against Namibia.
On a night when France scored 14 tries, it was a reminder that, at the World Cup, joy and pain are often served side-by-side.
"Nothing is ever straightforward," said O'Connell, who can perhaps empathise with Dupont having ended his World Cup journey on crutches in 2015.
"We were down in New Zealand [last summer], I remember I'd meet Mack [Hansen], he'd been down in the park training on his own because he had Covid. Some of the coaching staff had Covid.
"We've had all sorts of challenges thrown at us. It's a big strength of Andy's that he revels in it and enjoys it."
O'Connell is right. When Gibson-Park was ruled out on the morning of Ireland's Six Nations opener against Wales in Cardiff, Farrell calmly said it was "good for us as a group".
Farrell, who always cuts a fairly relaxed figure when fielding questions from the media, doesn't flap easily. Neither does his team. As O'Connell said, this Irish team have been handy at finding in-game solutions over the last few years.
Whether it's defusing South Africa's 'Nuke Squad' or keeping Cheslin Kolbe quiet, they'll need to find a few more on Saturday.
'Irish emotions will be tested against Springboks'South Africa v Ireland preview, team news & stats'With the world watching, time for Ireland to show why they're the best'
Read more