Dublin, Oct. 02, 2023 (GLOBE NEWSWIRE) -- The "Rain Barrels Market Share, Size, Trends, Industry Analysis Report, By Product, By Wax Type, By Distribution Channel, By Region, Segment Forecast, 2023-2032" report has been added to ResearchAndMarkets.com's offering.

The global rain barrels market is experiencing significant growth and is expected to reach a size of $3.51 billion by 2032, with a compound annual growth rate (CAGR) of 5.5%.
Several key factors and trends are driving the growth of this market:
Water Conservation and Sustainability: Rain barrels have gained popularity as a valuable resource for outdoor water usage, providing an eco-friendly solution for watering plants, gardens, lawns, and landscapes. Many regions allocate a significant portion of residential water usage to outdoor purposes, but approximately 50% of this water is wasted due to evaporation or run-off. Rain barrels address these concerns by allowing homeowners to capture and store rainwater, reducing the reliance on municipal water supplies and contributing to a more sustainable environment. Growing awareness of water conservation issues is driving the demand for rain barrels as a practical tool for sustainable outdoor water management.Government Initiatives: Some municipalities and local governments are taking proactive steps to promote rainwater harvesting and the use of rain barrels. For example, the City of Rochelle has launched a rain barrel program, offering subsidies for the cost of rain barrels to encourage residents to utilize rainwater for lawn irrigation. Such initiatives raise awareness about the benefits of rainwater harvesting and create a demand for rain barrels as essential tools for collecting and storing rainwater.
Key Players in the Rain Barrels Market:
Prominent players in the rain barrels market include Rainwater HOG, RTS Home Accents, Good Ideas, Algreen Products, Fiskars, EarthMinded, Emsco, Suncast, Great American Rain Barrel, Rain Reserve, and Ivy Rain Barrels.
Market Segmentation: The rain barrels market can be segmented based on various factors: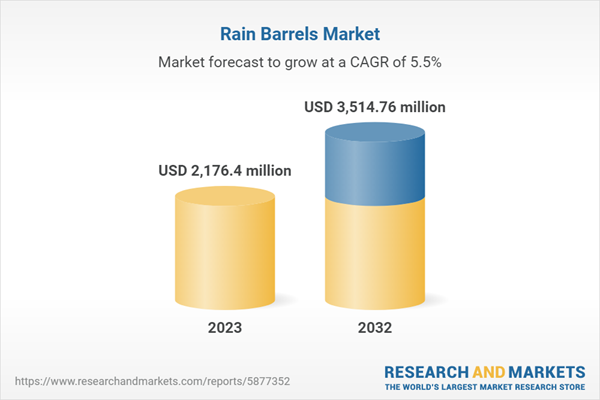 Capacity Type: This includes segments like 25-75 gallons, 75-125 gallons, 125-175 gallons, and above 175 gallons. The 25-75 gallon segment is expected to witness faster growth due to its convenience for residential use.Material Type: Rain barrels can be made of different materials such as metal, plastic, wood, and concrete & clay. Plastic barrels account for a larger market share due to their ease of installation and affordability.Head Type: The two main head types are open head and tight head. Open head barrels are versatile solutions for collecting rainwater and are projected to experience a larger revenue share.Region: The market is segmented by region, including North America, Europe, Asia Pacific, Latin America, and the Middle East & Africa. Asia Pacific is expected to register a higher growth rate due to rising concerns about water scarcity, while North America is expected to grow in terms of revenue share, driven by growing government initiatives to promote water conservation.
This report highlights the importance of rain barrels in addressing water conservation and sustainability challenges, as well as the role of government initiatives in driving market growth. Rain barrels offer a practical solution for homeowners to contribute to a greener and more eco-friendly environment while meeting their outdoor water needs.
Key Attributes:
Report AttributeDetailsNo. of Pages114Forecast Period2023 - 2032Estimated Market Value (USD) in 2023$2176.4 millionForecasted Market Value (USD) by 2032$3514.76 millionCompound Annual Growth Rate5.5%Regions CoveredGlobal
Key Topics Covered:
1. Introduction
2. Executive Summary
3. Research Methodology
4. Global Rain Barrels Market Insights4.1. Rain Barrels Market - Head Type Snapshot4.2. Rain Barrels Market Dynamics4.2.1. Drivers and Opportunities4.2.1.1. Growing awareness program on rain barrels is fueling the growth and demand for the product4.2.1.2. Increasing global population and subsequent water consumption4.2.2. Restraints and Challenges4.2.2.1. Maintenance of rain barrels4.3. Porter's Five Forces Analysis4.3.1. Bargaining Power of Suppliers (Moderate)4.3.2. Threats of New Entrants: (Low)4.3.3. Bargaining Power of Buyers (Moderate)4.3.4. Threat of Substitute (Moderate)4.3.5. Rivalry among existing firms (High)4.4. PESTEL Analysis4.5. Rain Barrels Market Head Type Trends4.6. Value Chain Analysis4.7. COVID-19 Impact Analysis
5. Global Rain Barrels Market, by Material Type
6. Global Rain Barrels Market, by Capacity Type
7. Global Rain Barrels Market, by Head Type
8. Global Rain Barrels Market, by Geography
9. Competitive Landscape
10. Company Profiles
For more information about this report visit https://www.researchandmarkets.com/r/6cw7ps
About ResearchAndMarkets.comResearchAndMarkets.com is the world's leading source for international market research reports and market data. We provide you with the latest data on international and regional markets, key industries, the top companies, new products and the latest trends.
Rain Barrels Market