Nottingham Forest vs Burnley. Premier League.
Callum Hudson-Odoi's wonderful debut goal earned Nottingham Forest a point against 10-player Burnley at the City Ground on Monday Night Football.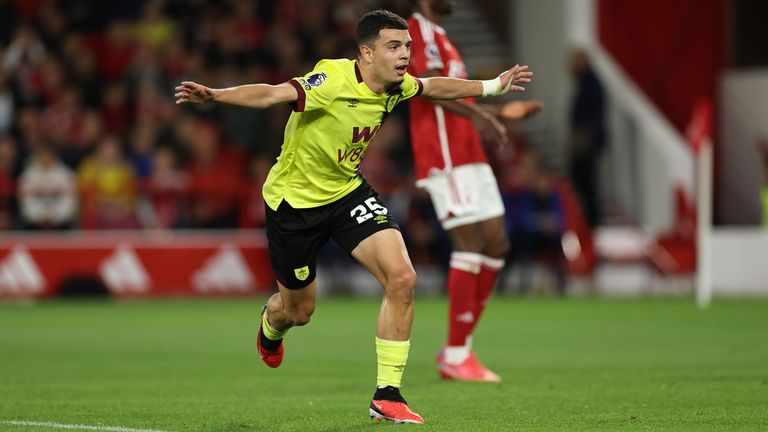 Having fallen behind to Zeki Amdouni's sublime strike three minutes before half-time, Forest's Deadline Day signing from Chelsea scored his first Premier League goal since October 2021 to deny Burnley their first win of the season.
An eventful end-to-end contest throughout, both sides threatened to take all three points but it was Vincent Kompany's team who will feel aggrieved not to have scored the winner when Lyle Foster, who was later sent off in stoppage time for a separate incident, saw an effort controversially disallowed for handball in the build-up following a VAR review.
The result will go down as an opportunity missed for Burnley but after three consecutive home defeats against Manchester City, Aston Villa and Tottenham, the draw gets last season's Championship winners off the mark this season. They stay 19th in the table, while Forest rise to eighth.
Image: Callum Hudson-Odoi marked his Nottingham Forest debut with a stunning goal to earn his side a point against Burnley
How the teams lined up | Match statsWatch free Premier League highlightsStream the Premier League and more with NOWGet Sky Sports | Download the Sky Sports app
Player ratings
Nottingham Forest: Turner (7), Montiel (4), Worrall (6), McKenna (6), Mangala (6), Aina (7), Sangare (6), Elanga (6), Hudson-Odoi (7), Gibbs-White (7), Awoniyi (6).
Subs: Tavares (6), Yates (6), Origi (6), Wood (n/a).
Burnley: Trafford (6), Al Dakhil (5), Beyer (6), Taylor (6), Roberts (6), Gudmundsson (6), Cullen (7), Brownhill (6), Koleosho (7), Amdouni (7), Foster (5).
Subs: Zaroury (6), Berge (6), Tresor (6), Delcroix (n/a).
Player of the match: Callum Hudson-Odoi.
WATCH: The game's key momentsHow to watch these clips for free with a Sky ID
Please use Chrome browser for a more accessible video player
Zeki Amdouni's stunning half volley put Burnley ahead against Nottingham Forest
Please use Chrome browser for a more accessible video player
Nottingham Forest debutant Callum Hudson-Odoi equalised with a sensational strike
Please use Chrome browser for a more accessible video player
Was this a deliberate handball? VAR intervenes as Burnley's second goal of the game is disallowed
Please use Chrome browser for a more accessible video player
Burnley forward Lyle Foster saw red for violent conduct in stoppage time
Forest and Burnley play out feisty draw
Burnley started brightly but Forest grew into the game and began to threaten through Hudson-Odoi and the in-form Taiwo Awoniyi. Hudson-Odoi tested Trafford from outside the area while Awoniyi and Morgan Gibbs-White continued to ask questions of Burnley's nervy defence, but it was the visitors who opened the scoring in the 41st minute.
After Amdouni had forced a fine save from Matt Turner from the edge of the area, the Switzerland international made sure he would not be denied a second time before the break. The impressive Luca Koleosho showed lightning pace down the left to beat Joe Worrall before his cross ended up in the path of Amdouni, whose powerful half-volley into the bottom corner from the edge of the box left Turner stranded.
It was the second time Amdouni had scored against Forest at the City Ground in under three weeks, after netting a late winner for Burnley in the second round of the Carabao Cup at the end of August.
Image: Zeki Amdouni celebrates after putting Burnley ahead against Nottingham Forest
Team news
Nottingham Forest handed debuts to Ibrahim Sangare and Callum Hudson-Odoi.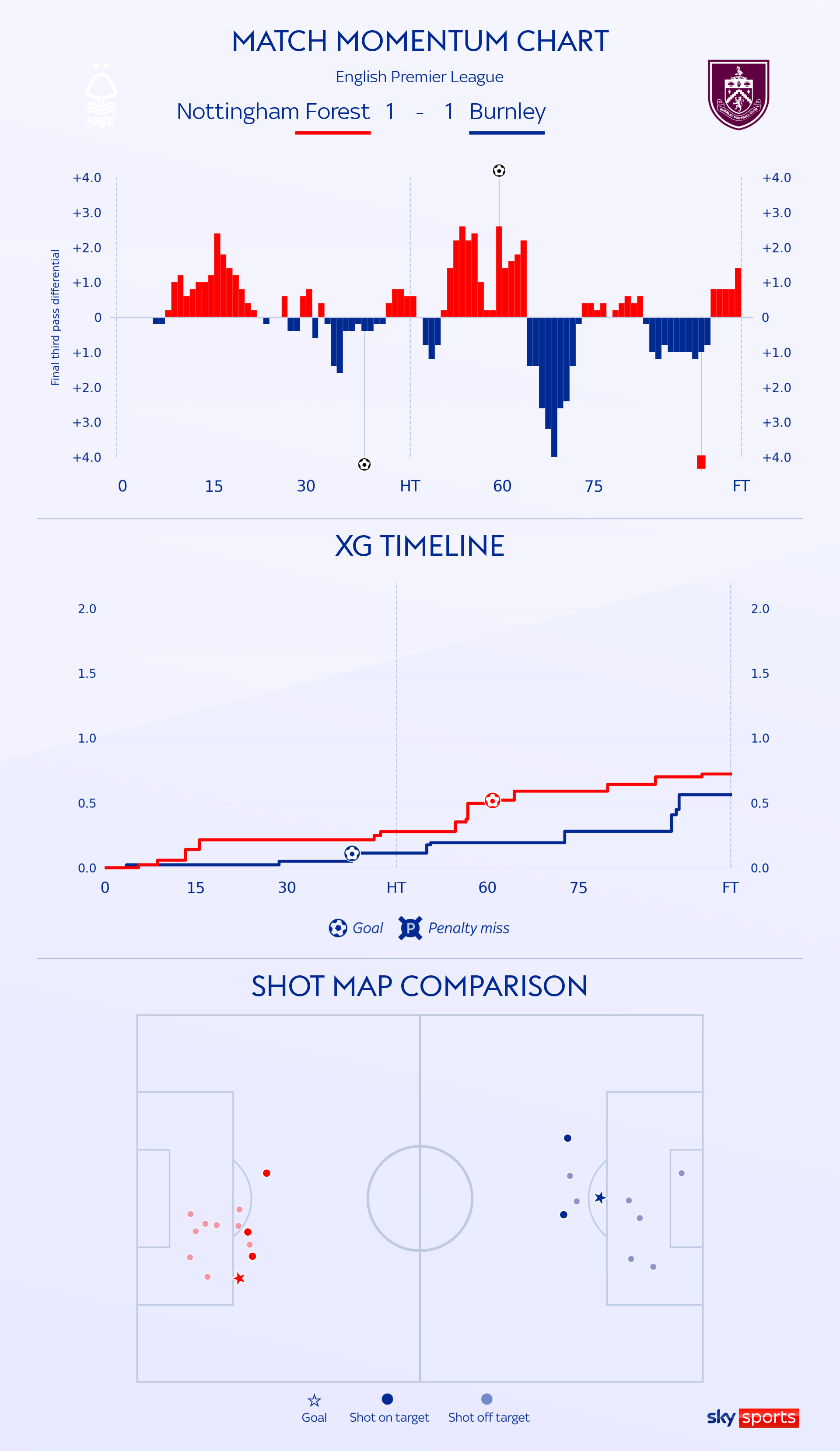 Both players arrived on Deadline Day this summer but were not eligible for the win at Chelsea before the international break. Anthony Elanga and Gonzalo Montiel also came into the starting line-up.
Burnley, who won at the City Ground in the Carabao Cup last month, made two changes from the side that were hammered at Tottenham, with captain Josh Brownhill and Charlie Taylor coming in.
Forest responded after the break and were level within 16 minutes. Hudson-Odoi, signed as one of seven players on the final day of the summer transfer window, received a pass from Awoniyi on the left-hand side of Burnley's box before shifting the ball onto his right foot and curling an effort into the far top corner via the post. After a VAR check for a potential handball by Awoniyi in the build-up, the goal stood and Forest were back in the game.
The hosts handed another debut to former Liverpool striker Divock Origi as they searched for a winner, but it was Burnley who thought they had found one 12 minutes before full-time. However, substitute Sander Berge was ruled to have handled the ball as he raced past Scott McKenna before setting up Foster to tap into an empty net.
That decision, made after referee Robert Jones was sent to the pitchside VAR monitor, sparked an angry reaction from the Burnley bench and the visitors' frustrations were further compounded when Foster was sent off for violent conduct after flinging an elbow at Ryan Yates in stoppage time.
Kompany: I don't feel anger | Much more room to progress
Burnley manager Vincent Kompany speaking to Sky Sports: "It was dramatic. When you look at the gesture [Foster's elbow on Yates that got him sent off], it's a moment of inexperience and something you can't excuse, but at the same time he has played his heart out for the team.
"Handballs and offsides, I will pass [talking] on those decisions. I just want to focus on getting the team right."
Asked more about the handball decision that denied Burnley a second goal, Kompany added: "Even the defender in the duel with Sander Berge doesn't say anything. You slow down the images, you highlight it. Do you want me to take a stance? I did everything I could to duck the question!
"I can't do anything about it. I don't really feel anger. I'm proud of the squad and a sign of a lot of progress."
Please use Chrome browser for a more accessible video player
Vincent Kompany says he doesn't feel anger towards the two VAR decisions against Burnley in their 1-1 draw against Nottingham Forest
On his side's performance, Kompany said: "We still have so much more room to progress. At least we defended the box and we didn't capitulate.
"It's the first year in the Premier League [for Luca Koleosho and Zeki Amdouni] and both have three, four or five years' growth. Luca runs into the box and wants to dribble. His end product will come, although he has had an assist already.
"This journey for us is not easy but at least there's something at the end of it and we can grow. I chose to play a back four that played together last season and that helped.
"The rest is just working on the training ground. Mistakes get punished much more than in the Championship. For us, it's a question of performance and confidence. We played against Nottingham Forest and are in the game, so that means there are six or seven teams that we can compete with."
Cooper: You trust the process | We started brightly
Nottingham Forest head coach Steve Cooper speaking to Sky Sports: "If I'm honest I'm more disappointed at the moment of defending. You trust the process, they have given a handball and we move on."
On the game itself, Cooper added: "I felt we started brightly, played some good football and got into really good positions and should've done more with the positions we got into and been more of a threat.
"We gave a goal away that we shouldn't have done, it's a mistake the way we let him get in down the side. It was about regrouping, tweaking some things tactically and the boys showed good bravery.
"Callum's goal is one of high quality. I did feel we were on top, looking to get back into the game, got the goal, then the game really opened up."
Please use Chrome browser for a more accessible video player
Nottingham Forest boss Steve Cooper praised Callum Hudson-Odoi's quality and said he needs to work with him to get him into a confident mindset
Were Burnley unlucky with handball decision?
Brentford boss Thomas Frank on Monday Night Football: "When looking at the frame-by-frame, we can see he touches the ball a tiny bit, but I think it's very harsh.
"What about the clear and obvious where they said they'd intervene? What if that was a defender? Would it be a penalty? They need to use common sense. They don't use common sense."
Please use Chrome browser for a more accessible video player
Jamie Carragher and Thomas Frank discuss Lyle Foster's disallowed goal for Burnley after it was ruled Sander Berge deliberately handled the ball in the build-up
Sky Sports pundit Jamie Carragher on Monday Night Football: "I'm with Thomas. I think it's extremely harsh. I think that should be a goal.
"I think initially he is running, so his arms are in front and he's trying to get there, then he sees the defender come across him.
"The arm is maybe slightly different from his running action, but then also the defender is coming across, so that left arm would normally come up anyway.
"It's the slightest of touches but to say he deliberately handballed it… it didn't change direction. I think they can feel a little bit aggrieved."
Sky Sports commentator Don Goodman at the City Ground: "I'm really not so sure it's a deliberate handball. I can understand why Burnley are frustrated.
"You just wonder, if that's a defender running back, are they really going to give a penalty for that? I don't think they are and that's the harshness of it."
How the match played out...Fantasy Premier League stats
FPL stats: Nottingham Forest 1-1 Burnley
Goals Hudson-Odoi | Amdouni Assists Awoniyi | Foster Bonus points Hudson-Odoi (3) | Amdouni (2) | Beyer (1)
Play Fantasy Premier League and see more stats hereOpta stats: Forest frustrated by Burnley againNottingham Forest are winless in their last eight games against Burnley in all competitions (D4 L4), since a 2-0 win in the Championship back in December 2012.Burnley have never lost a Premier League away game when leading at half-time (P24 W17 D7), the best such unbeaten record in the competition's history.Taiwo Awoniyi has either scored (9) or assisted (2) in each of his last nine Premier League appearances for Nottingham Forest.Callum Hudson-Odoi became the first player to score on his Premier League debut for Nottingham Forest since Geoff Thomas against Arsenal in August 1998.James Trafford's yellow card (10:43) was the third earliest caution for time-wasting in a Premier League game so far this season.What's next?
Nottingham Forest's next game is away to Manchester City on Saturday - kick-off 3pm. Steve Cooper's side then host Brentford on October 1, live on Sky Sports' Super Sunday - kick-off 2pm.
Burnley's next outing is at home to Manchester United on Saturday - kick-off 8pm. The Clarets then travel to Salford in the Carabao Cup on September 26 - kick-off 7.45pm.
Read more