Highlights: Lille 0-0 Wolfsburg in Champions League 2021
Lille played out a goalless draw in their first UEFA Champions League match against Wolfsburg in a duel that was shrouded in controversy but mostly due to a lack of goals.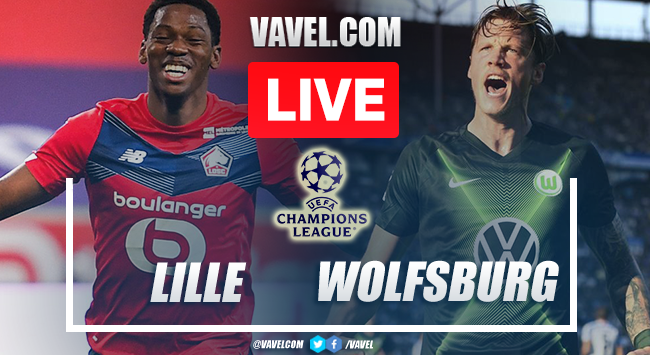 4:58 PM4 hours ago
Thank you for following the VAVEL.COM
We hope you enjoyed watching Lille vs Wolfsburg on Matchday One of the UEFA Champions League. Keep checking back on VAVEL.COM for updates throughout the day.
4:40 PM4 hours ago
80´
The free-kick is deflected into the wall and ends in a corner for Lille.
4:38 PM4 hours ago
79´
Dangerous free kick for Lille
4:29 PM4 hours ago
69´
Once again, Lille are on the receiving end of another goal! Angel Gomez puts in a cross that Burak Yilmaz gets in touch with but Casteels makes a good save on the goal line.
4:24 PM4 hours ago
64´
Casteels' save! On a long shot by David, the goalkeeper saves and sends it straight to the corner.
4:22 PM4 hours ago
To the showers
John Antony Brooks is cautioned again and receives a red card - sent off!
4:19 PM4 hours ago
58´
Wolfsburg had it! Philipp took advantage of Lille's mistake at the start of the game and fired a shot that alarmed the home keeper.
4:15 PM4 hours ago
56´
Josuha Guilavogui of Wolfsburg is cautioned.
4:14 PM4 hours ago
54´
Lille continued to try, the ball was left to Xeka but he got on the ball badly and his shot went wide of the far post.
4:10 PM4 hours ago
NOT COUNTING!
The goal is disallowed because before David scored, the ball had left the field. The score is still 0-0.
4:07 PM4 hours ago
47´
GOOOOOOAAAAL FROM DAVID! 
4:05 PM4 hours ago
Starts the second half
The second half of the game begins.
3:49 PM5 hours ago
End of the first half
The first half is over, Lille and Wolfsburg tied 0-0 at the moment!
3:39 PM5 hours ago
38´
Ángel Gómez's long-range shot ends in a goal kick.
3:39 PM5 hours ago
37´
Dangerous free kick for Lille!
3:36 PM5 hours ago
35´
Lille miss! Burak Yilmaz headed towards goal but his shot went wide of the target.
3:32 PM5 hours ago
31´
Benjamin André receives the yellow card.
3:29 PM5 hours ago
28´
Both teams have lowered their intensity, for the moment it is the Wolfsburg team who has the possession of the ball but it is Lille who has had the most clear ones.
3:22 PM5 hours ago
21´
Lille's long-range run ended up at the feet of Burak Yilmaz, but the Turkish player failed to make the right contact and shot too weakly.
3:14 PM5 hours ago
13´
Lille is close! Fonte gets in a header but the ball goes over the crossbar.
3:13 PM5 hours ago
12´
Foul on Yilmaz, dangerous free kick for Lille!
3:09 PM5 hours ago
7´
Ikoné hit it from outside the area but the ball did not make it over the sea of legs and missed the chance. 
3:05 PM5 hours ago
4´
Ikoné's dangerous cross is well saved by Brooks.
3:00 PM6 hours ago
THE MATCH BEGINS
The match kicks off at the Pierre-Mauroy, Lille welcomes Wolfsburg in the Champions League season opener.
2:49 PM6 hours ago
Let's get started in a few moments!
In a few minutes we will start the broadcast of the game: Lille vs Wolfsburg, match corresponding to matchday 1 of the group stage of the UEFA CHAMPIONS LEAGUE 21-22.
2:45 PM6 hours ago
They are already warmed up!
2:43 PM6 hours ago
Bad luck
Lille have only one win in their nine matches against German opponents in European competitions, the only victory coming against Stuttgard in the 2002 UEFA Cup. Their most recent defeat was against Bayern Munich in the 2012-13 UEFA Champions League. 
2:43 PM6 hours ago
Pre-game statements
2:38 PM6 hours ago
That's how the locals arrived!
2:33 PM6 hours ago
German parenthood!
In their last four meetings with French opponents, Wolfsburg are undefeated, so the historical balance is in favor of the visiting team. Their last opponent was St Etenne in the 2019-20 season in the UEFA Europa League group stage. 
2:28 PM6 hours ago
Beautiful postal!
2:23 PM6 hours ago
This is how the champion of France will emerge!
2:18 PM6 hours ago
This is how the Wolves will play!
2:13 PM6 hours ago
This is how Wolfsburg plays!
2:08 PM6 hours ago
Lille plays better away than at home!
The home team will make its debut in this edition of the UEFA Champions League with the intention of winning a positive result, taking advantage of the home factor. This is a team that curiously usually conquers more positive results as visitors than at home, since in the last 30 matches they have 7 wins, 4 draws and 4 defeats as visitors. While at home they have 6 wins, 5 draws and 4 defeats. For this match, the local coach cannot count on Timothy Weah, Jonathan Bamba and Renato Sanches, all of them with physical problems.
2:03 PM7 hours ago
The context of the moment
The most likely scenario for this match is that Wolfsburg does not lose. Undoubtedly, the German team is experiencing a better moment against Lille, and therefore should dominate and enjoy the best chances to score goals. On the other hand, it is worth noting that the home club enters this match demotivated after the defeat against Lorient.
1:58 PM7 hours ago
The wait is over!
The UEFA Champions League is back after a long break from May to September. Matchday 1 of the best club competition in Europe kicks off in France with Lille hosting a Wolfsburg side looking to spring a surprise on French soil.
1:53 PM7 hours ago
Tune in here Lille vs Wolfsburg Live Score
Do not miss a detail of the match with the live updates and commentaries of VAVEL. Follow along with us all the details, commentaries, analysis and lineups for this Lille vs Wolfsburg match.
1:48 PM7 hours ago
What time is Lille vs Wolfsburg match for UEFA Champions League match?
1:38 PM7 hours ago
Key Player Wolfsburg
1:33 PM7 hours ago
Wolfsburg last lineup:
I. Grbíc; Reinildo, S. Botman, J. Fonte, Tiago; A. Gomes, Xeka, B. André, Y. Yazici; B. Yilmaz, J. Ikoné.
1:28 PM7 hours ago
Lille last lineup:
K. Casteels; Y. Gerhardt, S. Bornauw, M. Lacroix, B. Baku; M. Arnold, J. Guilavogui; L. Waldschmidt, M. Phillipp, L. Nmecha; W. Weghorst.
1:13 PM7 hours ago
Refereeing team:
For this match, Igor Pajac will be the center referee, accompanied by Bojan Zobenica and Ivan Mihalj as assistant referees 1 and 2 respectively, and Bastien Dechepy will be the fourth referee.
1:08 PM7 hours ago
In search of further transcendence
The Wolfsburg team is once again in the UEFA Champions League, currently the Wolves have had a magnificent start to the season as they are placed as leaders of the championship with 12 out of 12 possible points, also, they are currently one of the best defenses in the Bundesliga as they have only registered one goal in their last four matches. For the moment, everything seems to indicate that the German team will remain so in their local league, however, they will not have it so easy in French territory, as they will face the current French champion.
1:03 PM8 hours ago
The new French champions
12:58 PM8 hours ago
The road to St. Petersburg begins
12:53 PM8 hours ago
Kick-off time
The Lille vs Wolfsburg match will be played at The Pierre-Mauroy Stadium, in Villeneuve-d'Ascq, Francia. The kick-off is scheduled at 15:00 pm ET.
12:48 PM8 hours ago
Welcome to VAVEL.com's LIVE coverage of the UEFA Champions League match: Lille vs Wolfsburg!