Move Aside, Elle Woods … Gwyneth Paltrow Has Arrived
Gwyneth Paltrow took the stand in a ski accident trial on March 24. Her testimony was streamed online, and it made for great TV — here are some Twitter ...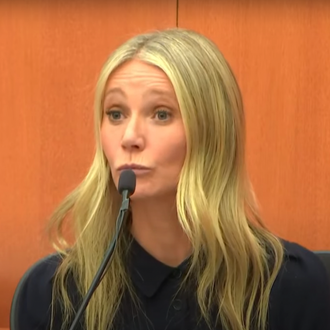 Looks like Legally Blonde 3 started filming earlier than we expected. Okay, okay, so Reese Witherspoon isn't back in court yet, but perhaps she could take some inspiration from Gwyneth Paltrow's ski accident trial? The spirit of Elle Woods was definitely present when the Goop founder took the stand on March 24 in the ongoing trial over a collision involving her and retired optometrist Terry Sanderson. We've got an explainer breaking down the legal arguments and background of this "ski and run" trial and the way things allegedly went … downhill (both Paltrow and Sanderson are claiming that they did not cause the collision). But in the meantime, the internet has latched onto the slightly sassy questions from attorneys — Who is the "Coldplay guy"? Is her ski outfit nice? — and Paltrow's answers through pursed lips. Is she, as one Twitter user put it, Gwynnocent? That's for the jury to decide. But is she making great television? Well, we'll let you be the judge of that.
Move Aside, Elle Woods …
Gwyneth Paltrow
Has Arrived
Things you buy through our links may earn Vox Media a commission.
Let's Talk About the Ending of John Wick: Chapter 4 Love Is Blind Season-Premiere Recap: Mean Girls Move Aside, Elle Woods … Gwyneth Paltrow Has Arrived Recently-Fired Marvel Exec Victoria Alonso Claims She Was 'Silenced' Well, Ye Says Jonah Hill Made Him 'Like Jewish People Again' Let's Talk About the Ending of John Wick: Chapter 4 Love Is Blind Season-Premiere Recap: Mean Girls RuPaul's Drag Race Recap: Teacher's Pet Daisy Jones & the Six Series-Finale Recap: Go Your Own Way James Lance Talked His Way Into More Ted Lasso