Who will win the Cricket World Cup? - TMS predictions
England won the World Cup in 2019 by the barest of margins
The Cricket World Cup in India gets under way on 5 October when England play New Zealand in Ahmedabad.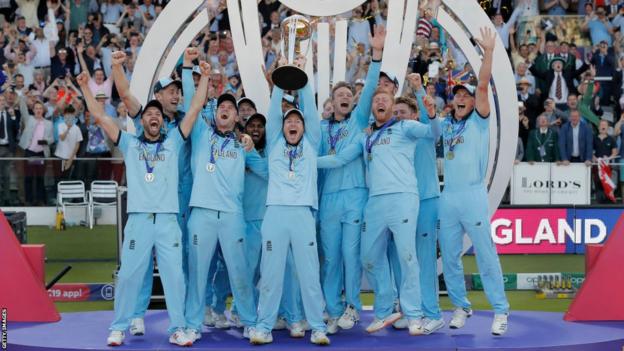 BBC Sport asked the Test Match Special team, and selected pundits, how they expect the tournament to pan out - and who will win it.
You can also have your say at the bottom of the page.
Cricket World Cup 2023 scheduleCricket World Cup 2023 squadsQuizzes: Bumper World Cup edition & how well do you remember 2019 tournament
England's all-time leading wicket-taker James Anderson: "The semi-finalists will be England, India, Australia and South Africa. I like how South Africa turned it around in their series against Australia. Their batting is strong and they have nice options with the ball. Pakistan will be close, as will New Zealand, but both will miss out.
"I can see England beating India in a tight final."
Winners: England
BBC cricket correspondent and former England bowler Jonathan Agnew: "England, India and New Zealand will reach the semi-finals. Not many are tipping New Zealand, but they are always so stubborn and successful in these tournaments. They get a good spirit together and have the boost of Kane Williamson returning.
"Still, I can't see anyone stopping India. If they get to the final in Ahmedabad, a stadium with a capacity of 120,000, it will be a huge home advantage, possibly the biggest we've ever seen in any sport. That will be a huge plus, regardless of the team they come up against."
Winners: India
Women's World Cup winner Alex Hartley: "India, Pakistan, England and South Africa will be the last four. There's no Australia in there - I think South Africa are peaking at the right time.
"The conditions will suit India and Pakistan and I can see them meeting in the final - it's what the whole world wants to see. India will win it."
Winners: India
Test Match Special commentator Aatif Nawaz: "This World Cup will be one of the most competitive we've ever seen. The format and the mish-mash of approaches to ODI cricket makes me think no team will emerge dominant. Every team will drop at least two, maybe three games.
"The last four could be decided on net run-rate, with England, India, South Africa and Pakistan squeezing in. I can see England going the distance. They have an X-factor to the way they play. In those crunch moments, the intestinal fortitude of their gun players will get them over the line and all the way to retaining the trophy."
Winners: England
Former England fast bowler Steven Finn: "This World Cup is the most open there has been in a long time. The lack of 50-over cricket in the build-up will mean some teams will go in slightly muddled about how they approach this format.
"The four that will reach the semis are England, New Zealand, India and Pakistan. They have the most balanced squads.
"The last three World Cups have been won by hosts - India in 2011, Australia in 2015 and England four years ago. With that in mind, India will win it again this year. They have played significantly more one-dayers than anyone else and home support will be a big advantage."
Winners: India
West Indies T20 World Cup winner Carlos Brathwaite: "My semi-finalists? England, Australia, India and then Pakistan or South Africa.
"England have set that standard that you must score 320 to be even considered in the game - 350 if you want to be safe.
"Australia are dynamic enough that they can keep up with that. India may be too conservative and, again, South Africa and Pakistan may be too conservative to consistently do it. The key to Pakistan and South Africa potentially winning is releasing the shackles, playing a free brand of cricket and thinking 330 is the minimum every time they play."
Winners: England
TMS commentator Simon Mann: "I find it easier to predict a winner than the four semi-finalists. India will reach the last four. I can't be as definite about the other qualifiers.
"Australia, England and Pakistan look best placed, but Indian conditions will surely encourage Sri Lanka, and don't rule out South Africa or New Zealand.
"India have more bases covered than the rest. Their biggest challenge will come in the knockout stage. They finished top of the 10-team group in 2019 but lost a tight semi-final to New Zealand. India to win it, though."
Winners: India
England T20 World Cup winner Tymal Mills: "The final four will be India, Pakistan, England and South Africa. India will be formidable, they have their home conditions and the huge crowds that they get will play a big part in them going far.
"Of those four, I'm going for Pakistan to win it. It's hard to look past their bowling attack with Shaheen Afridi and Haris Rauf, and in Babar Azam and Mohammed Rizwan, they have two of the best ODI batters in the world. In Indian conditions they have most bases covered."
Winners: Pakistan
Test Match Special commentator Daniel Norcross: "I feel like England are a bit under-cooked. They haven't played enough ODIs in this cycle and haven't got enough clarity about what their best team is. They will still make the semis, along with India, Pakistan and Australia.
"I just love Pakistan's bowling attack, and Australia's all-rounders will be key in such a long tournament. They are the most well-rounded side.
"But, India will win it. They obviously have home advantage and they're also the most settled side. They've also got the benefit of having played more ODIs than any other team in this cycle."
Winners: India
Women's World Cup winner Ebony Rainford-Brent: "Australia have a lot of high-quality players and South Africa look strong. It will be interesting to see if they can finally break the World Cup curse.
"I can see England making the final. They are a well-oiled machine, and they know how to win World Cups. Their players also know how to play in India, so many of them have had significant IPL experience.
"India are the winners for me. It's hard to look past them in their own conditions, and the home crowds will play a big part."
Winners: India
TMS commentator Nikesh Rughani: "Australia's players have significant experience of Indian conditions and their all-round capability stands out. England currently rule white-ball cricket and it's very difficult to go against India.
"Those three will make it through and be joined by Pakistan, even though it's hard to know what you will get with them. The talent is certainly there and, under Babar Adam's captaincy, they're a lot more consistent in this format. They have a solid top order and a fearsome pace bowling unit, even without the injured Naseem Shah.
"India tick every box. Home crowds will play a huge part and they're packed with match winners. It'll probably be Rohit Sharma's last World Cup so he'll be determined to go out on a high."
Winners: India
BBC Sport chief cricket writer Stephan Shemilt: "This could be a tournament where a few of the big boys have their noses bloodied. The conditions should help Bangladesh, Afghanistan and Sri Lanka take some scalps."India and England are the standout teams, New Zealand always find a way and Pakistan should do well. They are my final four."India will be the team to beat, especially at home, but I just feel England will go back-to-back. Being world champions in both formats is already a serious achievement and a win here will cement their status as one of the greatest white-ball teams of all time."
Winners: England
TMS commentator Henry Moeran: "England's batting depth should be enough to power them to the semis if their bowling holds up. Australia look good and have most bases covered, whilst South Africa could surprise a few with their powerhouse middle order.
"Barring a remarkable turn-up, India will be in the final four and pre-tournament form suggests a win on home soil is no longer just possible but now probable."
Winners: India
BBC Sport cricket writer Matthew Henry: "If I was doing this two months ago I'd have said England, India, Australia and Pakistan were the four teams that could win it.
"Since then Australia have lost five games in a row to South Africa and India while Pakistan's build-up has been a little chaotic - not that that has stopped them before.
"South Africa look strong but Anrich Nortje is a massive miss. England's hopes probably rest on how fit Adil Rashid really is."
Winners: India
Who will win the 2023 Cricket World Cup in India?
Time for you to have your say....
If you are viewing this page on the BBC News app please click here to vote.
Read more