Dustin Poirier vs. Conor McGregor 2 predictions: Who wins at UFC 257?
Three members of the DAZN media team attempt to pick a winner for UFC 257 on Fight Island.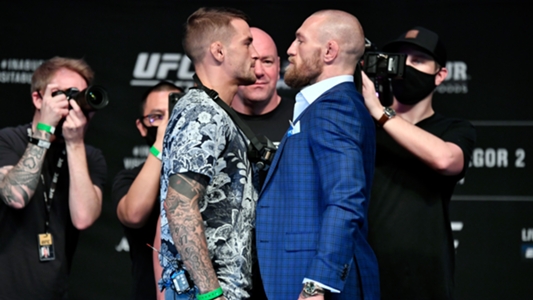 Conor McGregor required just one minute and 46 seconds to defeat Dustin Poirier when they first did battle back at UFC 178 in 2014.
The Irish fighter has claimed he will beat that time in their rematch, set for Saturday at Fight Island in the main event of UFC 257. But a lot has changed since then.
Which of the two fighters has made the most improvements over the last six-and-a-half years? Can the American create the opening that never came the first time around?
Three of our most fight-mad staff members here at DAZN News have been tasked with not only picking a winner, but attempting to call the finish as well.
Here's what they think will unfold in Abu Dhabi.
Mark Lelinwalla
Yes, Dustin Poirier has gotten significantly better since being knocked out by Conor McGregor back in 2014. However, I think Khabib Nurmagomedov's expressed interest in returning to the Octagon gives McGregor all the urgency needed to win and get a possible another crack at his nemesis. He'll get another stoppage here, but it won't be as quick as he's predicting.
Prediction: Conor McGregor via third-round TKO
Steven Muehlhausen
A rematch nearly six-and-half years in the making that no one expected to happen right now. McGregor and Poirier willed this fight together through the power of social media. Both guys have become mature and more well-rounded in their time apart from each other. The build-up has been extremely tame with respect at a premium like they were giving back massages to one another. 
The fight is going to come down to on the feet. Poirier's ground game isn't bad by any stretch but McGregor has more grappling skills than he gets credit for. McGregor holds the power advantage and it's going to prove to be too much for Poirier to handle for five rounds.
Prediction: Conor McGregor via third-round TKO
Liam Happe
A contest like this featuring two exciting combatants will be fun to watch regardless, but it will be even more enjoyable to look out for any callbacks to strategies or mistakes from the first fight. Will McGregor stick to his guns, or feel the need to update his approach? Can Poirier find a more successful way to break his opponent's rhythm?
I can see Poirier achieving what he couldn't in 2014 and taking McGregor down to the mat early. However, the Irishman is more than capable of shrugging off a takedown before he is taken into deep waters. Then, in the second round, the winning punch will land and "The Notorious" will go 2-0 against "The Diamond", a round later than the first time.
Prediction: Conor McGregor via second-round TKO