Bradley Lowery: Thousands raised for charity after Sunderland fan ...
Thousands of pounds has been raised for a charity set up in memory of a young football fan who died from cancer, after he appeared to be mocked at a match.
Two men, aged 31 and 27, are being held on suspicion of outraging public decency and remain in police custody, after a phone appearing to show Bradley Lowery's face was held up after Sheffield Wednesday's 3-0 Championship defeat to Sunderland on Friday.
Some £11,115 has been raised for The Bradley Lowery Foundation as of Sunday evening by the Sheffield Wednesday Football Club Women's Supporters' Group.
They set up a GoFundMe page on Saturday and it has now smashed its initial £5,000 target.
The funds will go towards a holiday home that the foundation is building in Scarborough, which it referred to as Super Brads Pad.
Earlier on Sunday, Lynn Murphy, co-founder of the foundation, told Sky News the support from fans and the club has been "absolutely amazing".
She said the holiday home will be able to support bereaved families and children who are going through hospital treatment.
A pair of football boots signed by Sunderland defender, Daniel Ballard, is also being auctioned off on the foundation's website.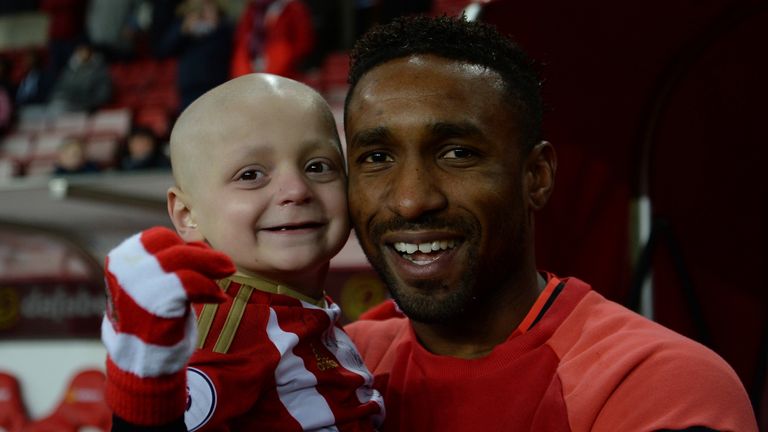 In a post on X (formerly Twitter) the foundation said it was "overwhelmed" by the support and wanted to thank everyone who has contacted the charity to condemn the behaviour at the game.
Twitter This content is provided by Twitter, which may be using cookies and other technologies. To show you this content, we need your permission to use cookies. You can use the buttons below to amend your preferences to enable Twitter cookies or to allow those cookies just once. You can change your settings at any time via the Privacy Options. Unfortunately we have been unable to verify if you have consented to Twitter cookies. To view this content you can use the button below to allow Twitter cookies for this session only.
Bradley's parents Carl and Gemma Lowery were visited by Durham Police after receiving multiple calls and messages regarding the photos.
The six-year-old suffered from rare childhood cancer neuroblastoma diagnosed when he was just 18-months-old. He died in 2017 at the age of six.
Read more from Sky News:Family of Jessica Baker killed in M53 school bus tribute to 'warm hearted' girlMichael Gove calls for tax cuts ahead of next election
He was a mascot for England and Sunderland and struck up a close friendship with striker Jermain Defoe, who called him his "best mate".
Image: Bradley Lowery with Jermain Defoe
"Bradley brought the football community together, his campaign brought rivalries together from all around the world," Ms Murphy told Sky News.
"He went through some gruelling treatments, but he always did it with a smile on his face, and that smile is the thing that everyone remembers him for."
Read more