Zwift, along with several other indoor cycling apps, have become a staple of winter cycling for so many of us. The problem is there is always a bit of a financial barrier to entry. Smart trainers aren't always cheap, though we've already rounded up all the best black friday turbo trainer deals in a separate hub if you want to go that route.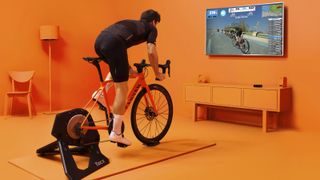 Here though, thanks to the pretty bananas Wiggle Black Friday sale I've found what is almost certainly the cheapest Zwift setup ever. It centres around a basic magnetic trainer that's a truly insane £14.99! Yes, you read that right; you can get a turbo trainer for less than a pair of socks. It's not fancy, and there are few bells or indeed whistles to speak of, but combined with a speed and cadence sensor, and an ANT+ dongle, both also reduced, you've got all the hardware you need to get going for as little as £39 (assuming you have a laptop or smartphone already), and under £55 if you need an ANT+ adaptor.
Obviously, there are other things you will need like a laptop/tablet/phone, and the Zwift subscription itself, but given you're reading this I think it's a safe bet that you won't need to buy any new computing hardware at the very least. Getting a turbo tyre is also helpful, but not a requirement; it just stops you from wearing your outdoor tyres quite so fast.
Sadly the discounts aren't quite so massive in the States, but they're still pretty big, with the whole setup costing just over $130.
Other Black Friday deals
Black Friday USA Deals
Competitive Cyclist: 25% off Santa Cruz, Juliana and CerveloWiggle: Black Friday sale is live with up to 60% off cycling kitAmazon: 25% off Garmin Instinct 2 Solar $399.99 $299.99Jenson USA: Anniversary sale gives up to 81% offREI: No Black Friday sale, but up to 50% off in the latest dealsMike's Bikes: Up to 80% off Specialized accessories
Black Friday UK Deals
Amazon: 26% off Garmin Fenix 6S £599.99 £389.99Wiggle: Black Friday is live! Save up to 60% off kit and accessoriesChain Reaction Cycles: Black Friday is live! 60% off helmets, deal of the day & moreSigma Sports: No Black Friday sale just yet, but 30% off bikesRutland Cycling: No Black Friday yet, but up to 40% off Specialized bikesEvans: No Black Friday yet, but half-price lights and winter kitTredz: No Black Friday yet, but get an extra 10% off with AUTUMN10Rapha: No Black Friday yet, but 60% off in the Archive sale
Black Friday deal roundups
Black Friday bike deals: Save on all things cyclingBlack Friday bike helmets: Safety on a budget for road and off-road useBlack Friday cycling clothing: Kit out your cycling wardrobe without paying a fortuneBlack Friday cycling shoes: Save on summer and winter kicksBlack Friday electric bikes: Power your way to savingsBlack Friday gravel bikes: Gravel grinding doesn't have to cost a fortuneBlack Friday kids bikes: They grow so fast, so don't pay full priceBlack Friday turbo trainers: Everything you need to get Zwifting on a budget Black Friday Castelli: Save on winter kit just as winter takes holdBlack Friday Garmin: Smartwatches, cycling computers and moreBlack Friday GoPro: Shoot for the moon with top-quality action camera dealsBlack Friday Rapha: Big deals on the British clothing brandBlack Friday Wiggle: One of the world's biggest cycling salesBlack Friday Wahoo: The best prices on Wahoo's range of cycling tech