Every year it's the same. I spend the final week of November ravenously hunting through Black Friday PS5 deals to surface the biggest offers on the latest games all while feeling a slight twang of regret at giving into my itch to buy on day one. 2023 has been kind to my growing physical collection, I've been melting zombies in Dead Island 2 (finally), sweating my way through Dead Space, casting all manner of the wrong spells in Hogwarts Legacy, and creeping through Baghdad in Assassin's Creed Mirage. Not wanting to miss out, I've spent a total of $329.95 to play all these games from the moment they launched. So it's difficult to realize I could have saved $135 if I'd waited for this year's Black Friday offers - and got some extra Dead Island swag in the process.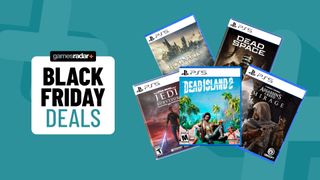 That's right, Black Friday PS5 deals are absolutely storming it right now. You'll find Star Wars Jedi: Survivor available for just $29.99 (was $69.99) at Amazon, Assassin's Creed: Mirage is down from $59.99 to $39.99 at Best Buy, the full Dead Island 2 HELL-A edition (with all the extra collectables) is now $49.99 at Amazon - that's $99.99 worth of kit for less than the price of the standard game.
Yes, some of these games were always going to be day one purchases. After all, I've been waiting for Dead Island 2 for nearly ten years - Black Friday wasn't even a thought when I pre-ordered. However, given the fact that I'm yet to take my first steps in Star Wars Jedi: Survivor (it's still wearing its plastic wrap of shame) I feel that 2023 might be the year I learn my lesson for good. Games are expensive enough these days, and I'm still kicking myself for not making the most of my PS Plus subscription while I waited for those prices to drop. My eyes have been bigger than my free time allowed this year - and Black Friday PS5 deals have spelled that out plainly.
Today's best Black Friday PS5 game dealsMore of today's best Black Friday PS5 dealsAmazon: 35% off controllers and 11% off bundlesBest Buy: Slim console bundles now availableWalmart: games now starting from $15GameStop: up to 50% off select gamesPlayStation Portal: Check for stock at AmazonBundles: Spider-Man 2 free with $499.99 console at AmazonControllers: DualSense now down to $49 at AmazonHeadsets: Razer, Turtle Beach, SteelSeries and more from $24.95 at AmazonGames: up to $30 off Sackboy, Spider-Man, Call of Duty and moreSSDs: 1TB SSDs from just $69.99
We're also keeping you stocked up with all the latest Black Friday gaming deals as well as the best Black Friday Nintendo Switch deals and Black Friday Xbox deals as well.