Results and Highlights From the 2023 Berlin Marathon
The 2023 Berlin Marathon saw historic performances on Sunday. Temperatures were ideal—in the high 50s with little wind and cloud coverage for much of the flat-and-fast course. Here are the highlights from the German capital.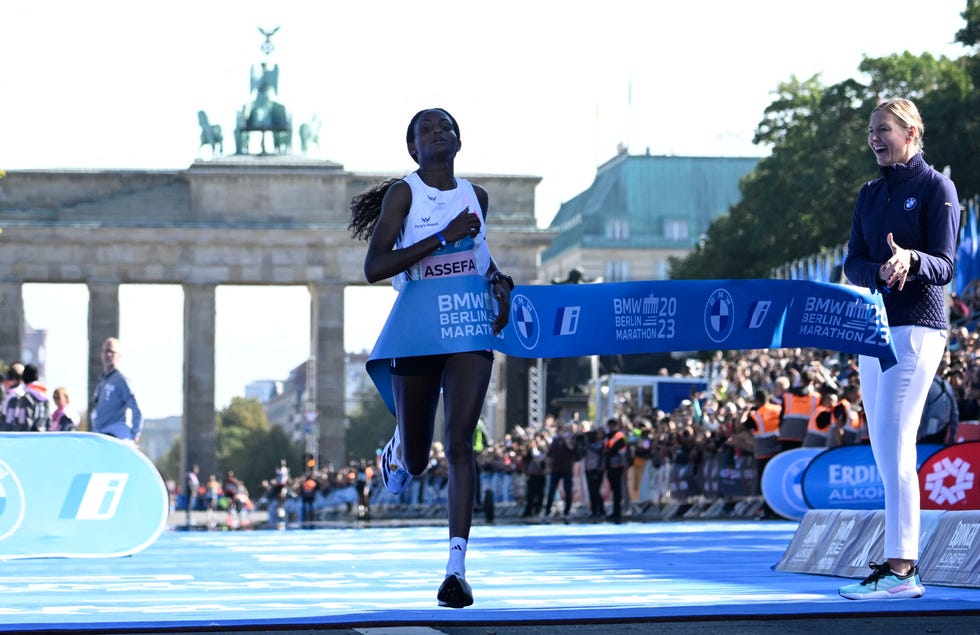 Results from the 2023 Berlin Marathon
Tigist Assefa destroys the world record
In her first race of 2023—and only her third marathon ever—Tigist Assefa charged to a massive lead and didn't look back. The 29-year-old Ethiopian ran a staggering 2:11:53 to take over two minutes off Brigid Kosgei's world record of 2:14:04 from 2019.
TOBIAS SCHWARZ//Getty Images
Assefa went out aggressively, separating herself from the pack after 15K and only continued to grow her lead. She came through halfway in 1:06:20 and by the 40K mark (just under 25 miles), she was ahead of second place by almost four minutes. Sheila Chepkirui ended up second in 2:17:49, followed by Magdalena Shauri in 2:18:41.
Assefa has seen dramatic improvement over 26.2 in recent years. She debuted at the distance in March of 2022 at the Riyadh Marathon in Saudi Arabia, running 2:34:01. But her breakout race was Berlin last year, where she smashed her PR, cruising to a surprise win in 2:15:37. At this year's race, she sported Adidas's newest super shoe: the pricey but feather-light Adizero Adios Pro Evo 1.
Annie Frisbie was the top American woman, finishing in 17th place with a time of 2:27:02. Jacqueline Gaughan was right behind her in 2:27:08, setting a PR by over four minutes, followed by Jane Bareikis in 2:29:00, who placed 21st.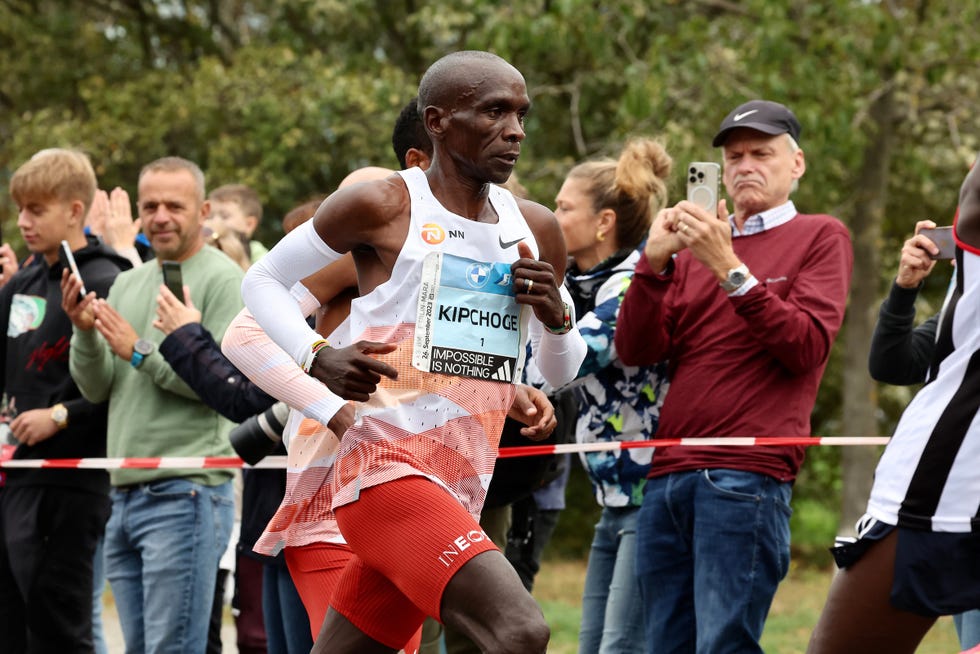 Kipchoge takes the win, but no world record
From the gun, Eliud Kipchoge made his intentions clear: he was going for his own world record of 2:01:09. He was well under record pace (which he set at last year's race) throughout the first half, splitting 1:00:22 at the half marathon mark, and at times, pacing to threaten the 2-hour barrier. Derseh Kindie of Ethiopia was the only man (besides the pacesetters) to follow him.
Kipchoge, however, couldn't maintain the breakneck pace. He separated from Kindie at 31K (who would soon drop out) and the final pacesetter stepped aside soon after. From there, Kipchoge was all alone, taking the race decisively in 2:02:42 for his fifth victory in Berlin. The time is the eighth fastest marathon in history.
Vincent Kipkemoi and Tadese Takele rounded out the podium. They began closing the gap to Kipchoge steadily, bringing him within 31 seconds at 40K, but couldn't pull him any closer. Kipkemoi, in his first marathon, placed second in 2:03:13, while Takele ran 2:03:24 for third.
Teshome Mekonen was the top American of the day, running 2:10:16 for 24th place. Mekonen was born in Ethiopia, but gained U.S. citizenship last year. He improved his PR—2:11:05 at January's Houston Marathon—and was under American record pace through halfway, but slowed considerably the latter half. Jared Ward, a 2016 Olympian, was the second American in 2:11:44.
Scott Fauble, the top American at the 2023 Boston Marathon, did not finish the race. His agent, Josh Cox, wrote on Twitter that he "had some stomach issues (vomiting) just before 30K" but was OK otherwise.
Swiss sweep wheelchair races
Marcel Hug of Switzerland won his eighth Berlin Marathon, crossing the line in 1:23:07. The "Silver Bullet" was well ahead of runner-up Daniel Romanchuk of the United States, who finished in 1:30:16. In the women's race, Catherine Debrunner—also of Switzerland—took home the victory in a close race. She edged out Eden Cooper by one second, breaking the tape in 1:34:16. Manuela Schär of (you guessed it) Switzerland was closeby to take third place.
FloTrack coverage disappoints
For American viewers, Sunday morning was marked by suboptimal coverage from FloTrack. The streaming platform had the broadcast rights in the U.S., but the entire race lacked any type of commentary—just muted crowd noise.
At $29.99 a month (or $149.99 annually), it's not unreasonable to expect a basic level of production. Unfortunately, this isn't unique to Berlin: the London Marathon in April, which FloTrack streamed in the U.S. and Canada, was offline for much of the event, including the second half of both the men's and women's races. The fans deserve better.
Theo Kahler
Theo Kahler is the news editor for Runner's World. He is a former all-conference collegiate runner who's based in Easton, PA. Previously, he worked as the newsletters editor at Runner's World, Bicycling, and Popular Mechanics.
Read more